Apr2020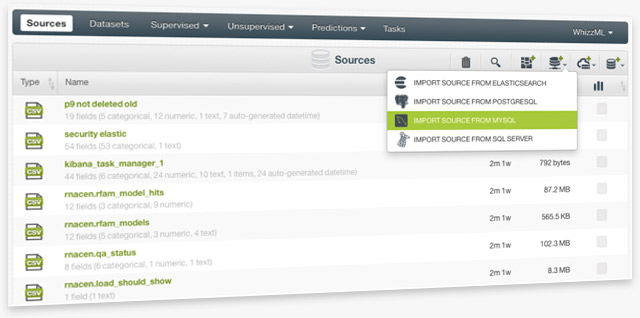 BigML now supports creating sources directly from your databases. You can also create sources from your Elasticsearch engine. Both the BigML Dashboard and the API allow you to establish a connector to your databases or Elasticsearch by providing connection parameters and authentication information. BigML can then connect to your database or engine and create sources in BigML's server. You have the options to import data from individual tables or to do it selectively by specifying the data with your own queries.
Please visit the release page to learn more.
Jan2016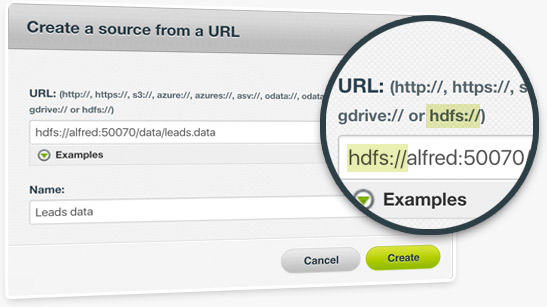 We are always on the lookout for new ways to help you use your remote data sources. With our new Hadoop integration you can upload new data to BigML directly from a Hadoop server by using a remote URL starting with "hdfs://", either from our Dashboard or our API.
Jun2014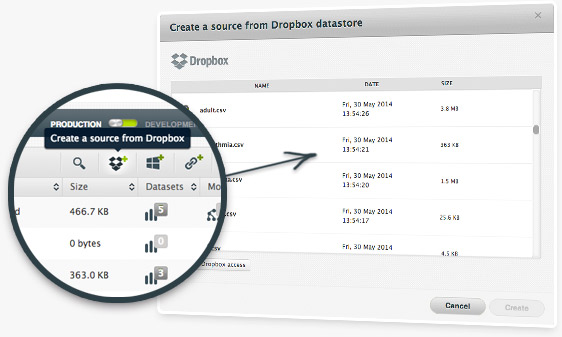 In another feature that we've created based on user demand, you can now use your Dropbox storage to bring new datasets to be analyzed in BigML. To activate this feature you have to visit the Cloud Storages section in your BigML account settings, and then allow BigML to access your Dropbox files. Note that BigML only reads your files for the purpose of downloading them into your Dashboard, and you can revoke the grant at any time in your account settings.
Once you've granted BigML access to your Dropbox account, you can browse your Dropbox account within BigML to identify sources that you'd like to download.
Sending Request...